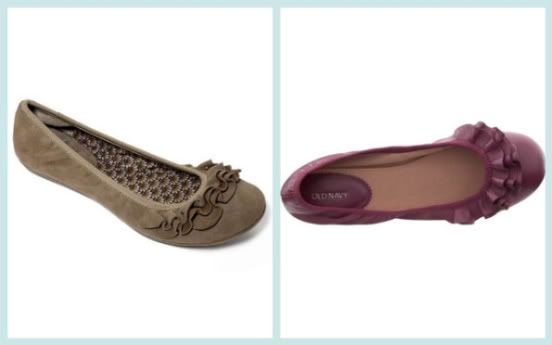 left: report "irina" flats, $29.99 at macys.com (original price: $59.00)
right: old navy ruffle faux-leather ballet flats, $24.99

This is not to say that any copyright infringement is going on here. Both pairs of flats are pretty basic and great deals, but I wanted to take this chance to talk about why you should most definitely go try on the Old Navy pair and attempt not to fall in love.

1. They are not made of suede like the Report pair. Suede, while lovely, is a pain in the backside to take care of, especially if you live anywhere where there is a vague potential at all times for rain. Living in Massachusetts, I've learned to just shrug my shoulders when in the middle of a sunny September afternoon, I look out my window and notice it's suddenly snowing (true story). So no suede for me, as it just gets ruined too easily.

2. "Faux-leather," while technically some kind of plastic, is vegan. So though these shoes will someday be chillin' undecomposed in a trash heap for hundreds of years, at least you can say a cow didn't die for you to wear them.

3. It has been years since I found a pair of flats that isn't uncomfortable. In fact, though I at one time owned three pairs, only one pair was comfortable enough to wear more than a few times, and they're made of denim (sounds hideous, look cute, just trust me), so if you refer back to number 1 on this list, you can infer what the problem is with those. I've tried on countless pairs of flats, and none of them worked for me: the edge against my heel was too stiff, the material scraped at my toes, toe-cleavage everywhere! A mess, yo. But then I found these, and they are completely awesome and cute (I love the ruffles instead of the typical bow). They're so super comfy that I'd love to own a pair in every color. These are miracle flats! For serious, guys, if you've had trouble finding comfy ballet flats, drive down to your local Old Navy and buy these right away.