With only three shopping days left until Christmas, maybe you need some quick ideas for those last few gifts for Crazy Uncle Ted. Luckily, I've got your back, with the help of some products that only a mother who looks like Billy Mays could love.
10.
Snuggie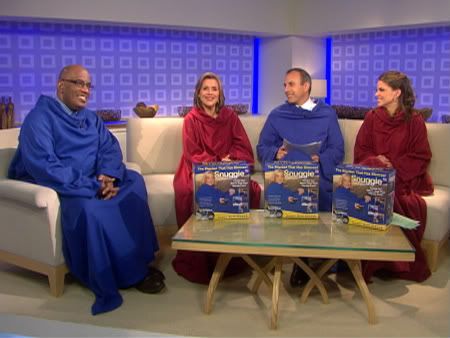 Also known as a
What the Fuck Blanket
, a Snuggie is basically just a backwards bathrobe, except you also get to... honestly, I don't know. I've heard they're pretty warm, but yeah, so is a bathrobe. I have a friend who wore a Snuggie to class once. That's because he was in a skit. And his role was Homeless Wizard. Still want one?
9.
Century of Dimes Coin Collection
Want a whole bunch of old dimes? Didn't think so. But wait! It's includes the 2000 Dime (yes, it's capitalized on the website)! You totally couldn't just find one of
those
in your purse!
8.
The BeDazzler
I had to include this one because it's a classic. With the bedazzler, you can take any piece of clothing and add rhinestones to it. A lot of rhinestones. And sequins! Think of the possibilities, you guys: you can make your own Bebe knockoffs
and
create your very own
gem sweater lady
Halloween costume.
7.
Barry Manilow DVD Set

I saw this on the As Seen on TV website and just couldn't resist adding it to the list. This collection is made up of 5 whole CDs of Barry Manilow songs, most of which are not
Copacabana
. Other reasons you should buy? You can save $5 and get free shipping on an Irish Tenors CD. So if you know someone who loves Barry Manilow and watches more than their share of PBS (perhaps they even have a tote bag to prove it), you might want to snap these babies up.
6.
ShamWow
Look at how that "real time" Cola bit is totally in real time! I mean, you can't even tell they moved the piece of rug to a spot that was already dry! In the words of my boyfriend's father, who actually purchased one: "It's a piece of shit."
5.
Roll-Up Piano
Yes, a flexible piano that rolls up so you can take it anywhere. This would be a great gift for a mother, except if you play piano, do not, I repeat,
do not
get this for your mother. The next time you're at Aunt Phyllis's house and your mom wants you to play that Mozart piece you learned, you'll regret it. "But there's no piano here!" you'll say in relief. Oh, but the roll-up piano goes everywhere.
4.
Fanny Bank
How it's actually described on the site: "This hilarious Fanny Bank will be a hit in your home or office or just about anywhere. A plumber named Manny is exposing his fanny, laughs at the tickle of a shiny new nickle. So just drop some loot to hear the fanny bank toot. The Fanny Bank is fun for the whole family." You know, maybe the humor is lost on me on account of never having been a teenage boy.
3.
Shake Weight
Designed specifically for women (
or not
). Just sayin'.
2.
Butler Toilet Set
It's so whimsical to crap in a butler's mouth!
1.
Pootrap
The animal lovers in your family will love tying a plastic baggie to their pet's behind! Dogs don't know what dignity is, right? Of course not! I think the commercial speaks for itself.
Do you own any "as seen on TV" products? Did they actually work? Are they

actually

hilarious?