Okay, okay, I've screwed up. I can admit when I'm wrong, you know. I abandoned this blog for a month, whichwas probably longer than I had to. Will you forgive me? Pretty please? I'll be good this time, I promise.
Anyway, are you curious what I've been up to at all?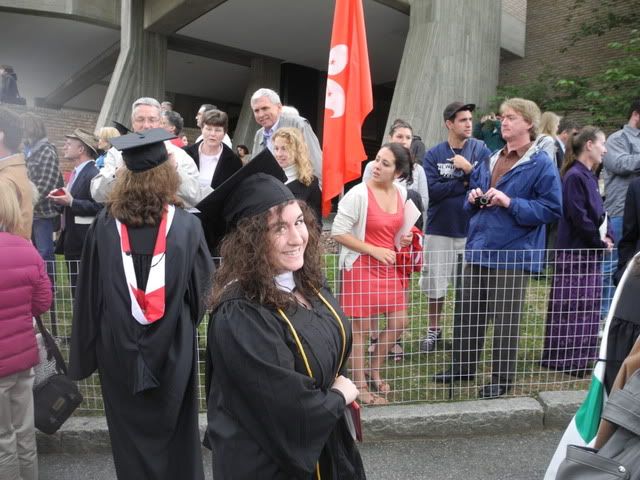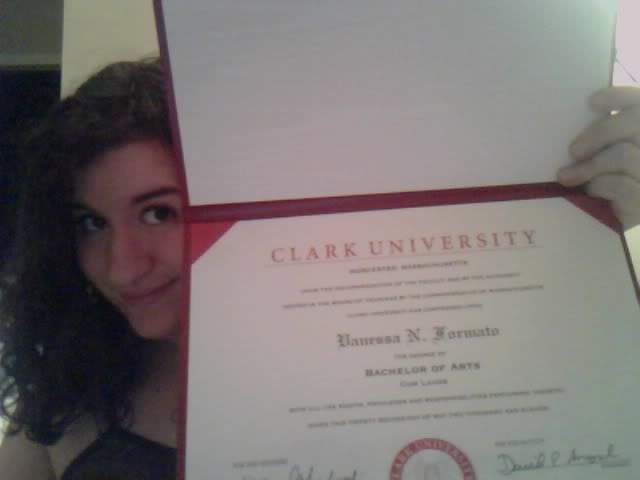 BAM! GRADUATED!
Yeah, no big deal or anything.
So, I've basically been preoccupied with finishing school, graduating, moving back in and looking for permanent employment. I'll be returning to my waitressing job for now, but my boyfriend and I are hoping to move out as soon as I get a real job. Ideally, we'll be out of the house by August when he starts law school, but we can't get our hopes up
too
high.
All in all, I still can't believe I'm done with college. I don't think I'll really feel like this isn't my summer vacation until August/September rolls around and I find myself
not
packing up to return to Clark. I'm thinking I'll be okay.
This is kinda irrelevant, but I've also been on a vegan cupcake baking spree. I bought
Vegan Cupcakes Take Over The World
by Isa Chandra Moskowitz and Terry Hope Romero, and it's amazing. Seriously, I would recommend this cookbook even to non-vegans. I've only tried a few of the recipes so far, but many of them don't have ingredients that are too bizarre (no, say, free range wheat grass) and the preps tend to be pretty easy. I've eaten them almost exclusively with non-vegans, all of whom agreed they're awesome and don't "taste vegan" (code for: they don't taste too healthy). My boyfriend, a junk food connoisseur, claims the peanut butter ones are the best cupcakes he's ever had. I would also add you should buy this book for the chocolate frosting recipe alone, which is absolutely otherworldly. You will never buy store frosting again.
Anyway, a friend and I tried a recipe for margarita cupcakes which came out amazing. May the limes that gave their lives for us be eternally blessed.
Are they as pretty as the ones in the book? Not in the least. But were they delicious? Oh hell yes.
Basically, I just wanted to let y'all know I'm back and I don't plan on leaving you again. The last whole bunch of months have taken a toll on my blogging schedule, but I think the break-- even if it was full of other work-- will have done wonders for my blogging mojo.
See you tomorrow, lovelies!