People, my job is not glamorous: I work at yacht club restaurant. What does that mean? I serve a lot of old folks who complain a lot and for some reason
love
liver and onions (gag). I mean, it's good money a lot of the time, because most of the customers are well to do. The major downside, though-- even more of a downside than having to serve liver and onions at least once a shift-- is that I spend four days a week in a uniform. It is all black and usually smells of fried fish. The black I don't mind. The fish smell? Well, when you work so many days in a row, you get a little frustrated trying to get that odor out and give up completely, 'cause no one's really going to notice because they
want
fish anyway. But the smell of work clothes is not what's on trial here (I know, I sound like a disgusting urchin now). The issue at hand is how difficult it can be to bring a little pizazz to a boring old uniform.
So how do I do it?
Usually I just try to wear simple, nice makeup and eye-catching accessories, but today I wanted to try something new: red lipstick. I love and fear the stuff. I think it looks incredible, but I always worry about how not-white my teeth look when placed next to it and that I might look too pale or like an old folk or something. I also worry about what people will say. Will it be too much for them? Too shocking? Too unbearably chic (uh-huh)? Well, I saw Brittney-- a fellow uniform blogger-- over at Lemon Love
try it out
, and I decided that I should kill two birds with one stone; that is, to blog about my uniform as I said I would, and to do something a little daring with my makeup.
Unfortunately, the closest shade to a matte red I own is more of a fuschia, but it was still nice and bright-- enough to make me feel like I was being a rebel. (By the way, my now very belated birthday gift of a new camera should be happening within the next few days, so hopefully the next batch of photos will be of much better quality--I'm psyched).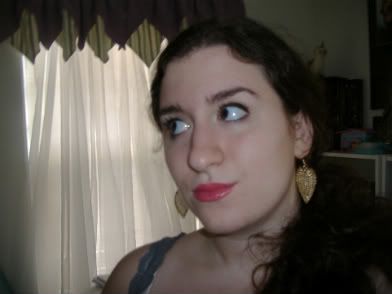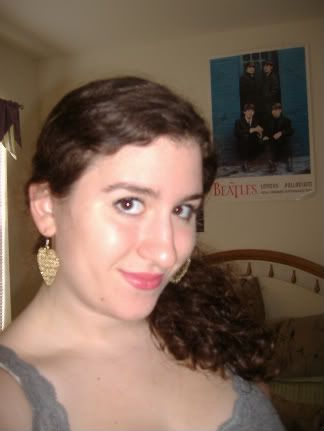 (
i am terribly in love with h&m heart earrings the boy got me)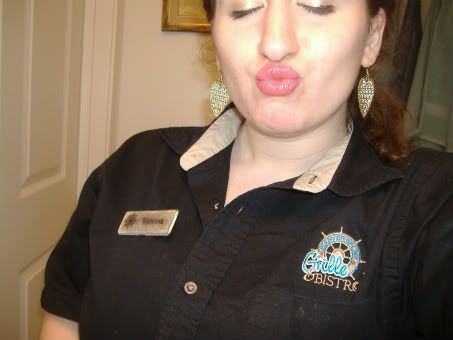 (excuse the schmutz on the pocket-- i must've spot-cleaned that after the fact. oopsies.)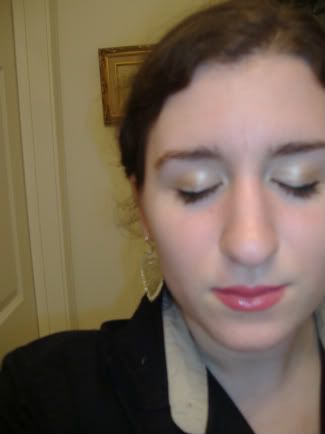 So as you can tell from these pictures I am a) a fan of The Beatles (I'm listening to them as I write this, in fact) and b) a complete loser who thinks kissy-face pictures are still cool*.
When trying out a very bold lipstick, it's best to keep any other makeup to a minimum, or at least make it a bit subtle. I lined my eyes with
L'Oreal "Lineur Intense in "Black Noir"
(I don't know if I'd recommend it quite yet-- it's a bit
too
liquidy for my likes so far, but I'm coping) and applied a coat of
Rimmel Extra Super Lash mascara
. I wanted to then choose an eyeshadow that would be similar to my actual skin tone, and luckily one of my favorite ever eyeshadows fit the bill:
Mac Retro-Speck
. I love this stuff. I then applied a coat of an unidentifiable brand of hot pinky-red lipstick (with a layer of foundation underneath-- it's supposed to help it stay longer). For a bit of shine, a used a tiny speck or two of a clear gloss.
I felt pretty glamorous-- so glamorous that I kind've intimidated myself and also felt too glamorous to go to work and spill a martini on myself. Unfortunately, I was also pretty sure that if I called my manager and said "I can't work because I'm wearing kickass lipstick," I wouldn't be granted a night off.
All that said, I think the pictures don't, for the most part, do the actual shade of lipstick justice. The first shot is kind've goofy, but the lipstick looks most like the shade I actually believe it was in my head. I almost rubbed it off before heading to work, but I successfully forced myself out of the house before a wet towel got anywhere near my lips.
So, ladies and gents, how do you dress up your work uniform? Do you at all, or do you prefer not to attempt fashion at work? Do you have the joyous kind of life where you don't have to even wear a uniform? Oh, gosh, tell me about how that feels....
*THEY ARE I WILL NEVER GIVE UP THE DREAM.
P.S. I am going to post this quite hoping I've been coherent through the whole thing. It was a very long night, which means I am tired and a bit under-nourished. I get to wake up at 9 AM to get ready and do it all again tomorrow. Yaaaaaaaaay.