I will be very honest with you and say that for some reason unbeknownst to me at this time, I hate the idea of wearing new flip-flops. I refuse to shop for them, and when my mother kindly picks a pair up for me at the store, they generally get exiled to the farthest, darkest corner of my room I can find. It is for that reason I have been wearing the same terribly old, dirty, no-foamy-support-left-whatsoever flip-flops for the past, oh, three years. I'm not even exaggerating, people. Three years. This makes them, in the world of $10 sandals, pretty much like sea turtles for your feet. Remember that from
Kratt's Creatures
? They live to approximately a zillion. I think that's exactly what they said, too. A zillion.
Of course, when it came time to choose just 10 pairs of shoes (which turned into 12, but is still a huge improvement) to bring with me to college, I grabbed my ratty old flip-flops and declared them to be my everyday sort of footwear, as the only other summer-ish shoes I brought were a pair of white Skechers flats that make my feet sweaty and
my sky-high Forever21 beauties
. Needless to say, I planned on wearing the flip-flops just about every day, and I was okay with that. I
wanted
that.
Then, tragedy struck. Today, on the first day of class and only my second day
at
school, I was walking home from my news writing class. As I approached the front door to my dorm I thought to myself "huh, I wonder if I can see into my boyfriend's window from here." I walked back and forth a few times, creepily craning my neck around in search of which room was most likely to be his and not giving a single thought to the horrible event that was about to happen.
I tripped. Out of nowhere. No reason, it seemed. I looked around. Good, no one sa-- WHY IS MY FOOT NO LONGER IN MY SHOE?!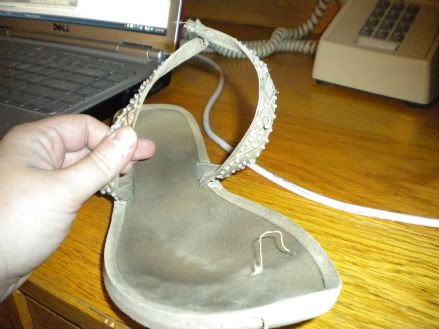 I hobbled back to my room. I stared at the dead flip flop. I couldn't make any more excuses to keep them, and I think, what with the wonderful, exciting, sea-turle-length life they lived, they would have gladly, willingly signed a "Do Not Resuscitate" form if they were animate objects at all.
I lowered them into the trash, and now they're gone. Forever.
I miss them already, but I know they would have wanted me to get a
new
pair of flip-flops, except I don't want
new
flip-flops, I want
those
flip-flops.
Today was a tragic day.
Have you ever worn something until it fell apart? Did you need a support group to get through it?