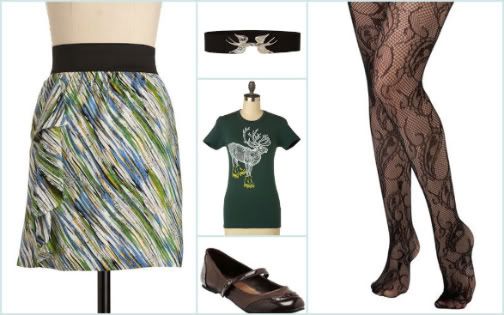 tilt-a-whirl skirt
: $29.99 ;
chocolate ganache flats
: $29.99;
beast friends forever tee in roller rink
: $21.99;
can you sparrow some change belt
: $15.99;
arabian tights
: $14.99
I have an announcement to make:
I am doing a giveaway
.
I know, couldn't tell by the title, right?
But, seriously, folks. I decided awhile back that when my follower count reached 50, I would give something back to all of the amazing people who read this blog. And in all seriousness, you
are
amazing. I'm always impressed by your smart, thoughtful, caring, passionate comments-- you are such a lovely bunch.
So what am I giving away?
A $30 ModCloth gift certificate!
ModCloth
has some amazing, amazing stuff, and even though they can be a bit pricey, there are some fabulous offerings for under 30 big ones. Of course, you could also take your virtual gift card and put it toward a pricier purchase. It's your money to do whatever your little heart desires with!
You can have up to four chances to win
as long as
you post your separate entries as separate comments. I'll be using a random number generator to select the winner, so it'll just make everything neater if you do that for me, pretty please.
To Enter:
1. Simply leave a comment on this post, including your e-mail address.
(Dear lurkers, don't be shy-- now's your chance!)
2. Mention this giveaway in a blog post anytime in the next week and comment with a link to said post.
3. Tweet about this giveaway ( @MirrorGoRound)
.
Leave a comment telling me so-- and you
r Twitter name so I don't miss it
.
4. E-mail me something you love about yourself for Love 365 and mention this giveaway at the bottom of your submission.
You don't have to comment if you do this-- I'll take care of it.
Winner will be announced Monday, February 15th.



(Thank you so much for reading Chicken Soup for the Dorky Soul! You'll never know how much it means to me. Good luck!)