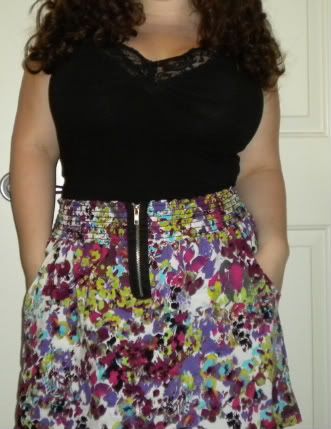 [ EDIT: This was originally a photo I found on Flickr but.... Though I usually don't put pictures of myself up here, I was able to get around to taking a photograph of myself all tucked in. My face was lookin' crazy, though. So I cropped it out. ]
I was never one to tuck in my shirt until recently. See, I don't really have the body for tucking in, or so I've been told. I have an hourglass figure of sorts, which sounds great, but I'm still chubby (the photo above is quite flattering thanks to the high-waisted skirt hiding my ample tummy). This has meant, since forever, that tucking my shirt into my skirt is forbidden. That's what my mother always told me, that it just didn't look right. It didn't look good
.
And no one wants to look
not good
, right?
Over winter break, I decided to buy a tulle tu-tu style skirt. I had all these ideas for it, but most of them included wearing it with my shirt tucked in. I left the store without it at first, settled on the fact that I'd never be able to wear it the way I wanted to, but later that evening I went back, bought the thing, and stored in my closet for a daring day. I would try wear it around my room every once in awhile when no one was around, experimenting with tops, tights, and cardigans until I felt bold enough to wear it out in public.
That was the beginning of the end. Now, I have at least three skirts I
only
wear with my tank or tee secured under the waistband. And even though I usually find myself strutting around in front of the mirror, I sometimes feel a little nervous heading out into the public eye. What if I really
am
too big for tucking? Will people stare? Will I look like a frumpy floral sack of potatoes?
When it all comes down to it, though, I've realized one thing:
I don't really care.
For me, tucking in is a declaration of don't-give-a-fuck, if you will. I think I look great, thanks, and no one can tell me otherwise. When my mother questioned my outfit the other day I said "I think this looks good" and didn't change a thing. I love the way it accentuates my small waist and the way it makes me feel like swinging my hips as I walk. And even if some other style be more flattering, it wouldn't empower me nearly as much. When I tuck in, I remember my body is beautiful and I don't have to play it down a bit.
Call me a rebel, but I love breaking the rules.
What fashion rules do you love to break?