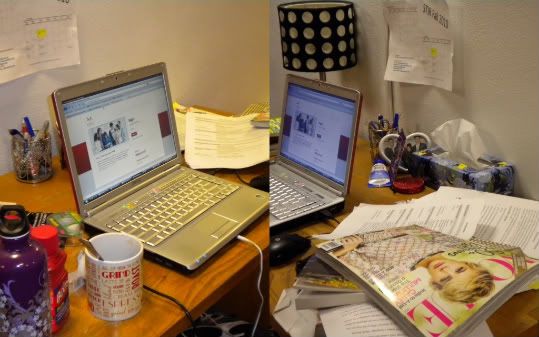 The above picture is my desk right now. I don't think I need to say that I'm not the most organized person. Everything's sort've strewn (this is actually much better than normal) and it drives my neat-freak boyfriend crazy. He tries to clean thing up for me a lot, but I usually find it doesn't help. Things go back to my version of normal pretty quickly. Oh well, nice try.
I'm like a lot of disorganized people I know in that my brain sort've malfunctions when things are
too
tidy. I know where most of my stuff is, even if it looks like there's no way I could have any clue. I do lose things on occasion, but I try to use a few simple tips to keep my clutter from ruining my peace of mind.
Don't Be Pressured
My boyfriend won't agree with this, but here's the thing: don't let yourself be told how you have to organize yourself. Not everyone works efficiently in the same way, so if a workspace that's kept super clean and sterile makes you cringe or cramps your style, screw it. You don't have to do things that way. Work with your quirks!
Color Coding
This, for me, is the most essential part of being efficiently cluttered, if you will. When it comes to notebook for class or important notes about assignments, I try to come up with a color system. All my notebooks are a different color and I generally write notes to myself in a certain pen so that I can tell what the note regards without too much thought. Since papers tend to pile up around these parts, having different
bright
colors to search for is super helpful. I can find a red notebook among the chaos pretty easily.
In and Out Boxes/Bins/Etc.
Since this is a short list of tips to help you stay cluttery but not lose anything, I have to advocate casual organization tools like bins. In and out boxes would be ideal-- I wish I had some-- so that you know where everything is
generally speaking
but it's also not a case of having everything all over the floor. You could make these cheap by cutting up old cereal boxes and either painting over them or using a chic wrapping paper to cover them (unless you're really fond of Cheerios).
White Boards
This may be a stretch, but a lot of us cluttered-types are also creative-types, and what do creative, whimsical people like more than a dry erase board? You can do silly doodles while staying on top of your schedule! I have one now that has a notes section and slots for each weekday and I think it will really help me keep my thoughts straight throughout the week (no more forgetting!) I've always loved planners, but unlike a planner, a white board's a one-time purchase and much more green, considering a day planner for every year of your life would be a whole lot of paper. And an added bonus: since you can mount a white board on the wall, it won't take up more desk space (or get lost).
Pile Technology
This is a term I coined sometime in the last year or so and has been my go-to room cleaning technique.
It combines both organization (boring, eh) and disorganization (exciting, fun!) into several nice little packages ready to be put away. And I suppose we should put things away sometimes.
Basically, it's easier for me to put my disarray of skirts into a pile, and shirts into a pile, and papers into a pile, etc. and go from there. I never know where to start when it comes to cleaning, so this way I can work my way through a lot of stuff in bite-size chunks. My boyfriend claims this method doesn't work and actually makes things more messy, but he likes to lie. A bunch of nice little piles is better than crap strewn all over the place, right?
Are you messy or neat? What does organization mean for you? What do you do to keep yourself organized?